July 9, 2022 9:00 PM - 10:30 PM
This Saturday we are happy to present: Natalie Cuomo, Ryan Denee and more.
Natalie Cuomo: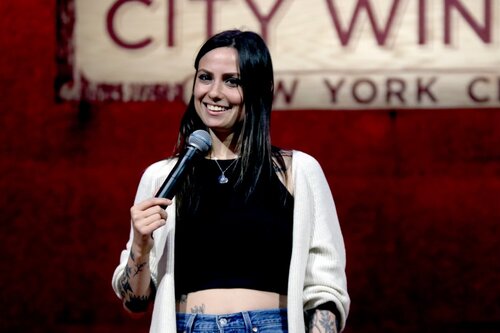 Natalie Cuomo is a stand up comedian born and raised in Queens, NY. She has been featured in Time Out NY, NY Magazine, Metal Injection, and Inked Magazine. Natalie is the host of the podcast Help! with Natalie Cuomo.
Natalie hosts a weekly show at The Stand Comedy Club in New York called Classy Trashy Comedy. Natalie has performed at New York Comedy Festival, Skankfest South, Idaho Comedy Festival, and Laugh Riot Grrrl Festival in Los Angeles.
Ryan Denee:
Born and raised in Kingston Ontario, Ryan began his comedy career in 2007 just shy of his 30th birthday.
A natural storyteller, Ryan combines real life experiences with his powerful ability to go off the cuff and work the crowd, creating a hilarious night of entertainment enjoyed by all ages. Dennee has the uncanny ability to play to any age group, from high school students to seniors and everyone in between, Ryans likability on stage is inimitable.
An avid supporter of Canadas military, Ryan has performed at nearly a dozen different armed forces bases across the country. Ryan has been featured on XM Radio multiple times. He has performed at JFL 42, The Cottage Country Comedy Festival, the Waterloo Comedy Festival, and is the producer of Kingstons Ice Cold Comedy Festival. Ryan has been seen on several television commercials, and his comedy is routinely heard on K-Rock 105.7FM.
Dennee has been described by several veteran comedians as a comic flying under the radar, and a comedic force to watch out for.
BUY TICKETS BELOW!
---
Event
Price
Cart
Saturday Night Headliners Show July 9th 9PM

$

25.00